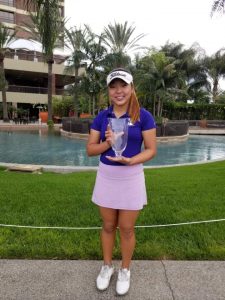 Cameron (Qiru) Xiao
, from 
Yorba Linda, CA, 
continued his solid play this year on the 
SCPGA Toyota Tour Championship 
with a 2nd place tie on the 
Babe Zharias at Industry Hills.  Cameron
, fired 70-72 (142).  In his first round, 
Cameron
, posted 4 birdies, 11 par's and 3 bogies for his -1 under par 70.  In the second round, 
Cameron 
made par's on 1 and 2, before making a bogey on the 3rd hole.  He made par on 4, made birdie on 5, par on 6, another birdie on 7, before giving into another bogey on 8.  
Cameron
, made a par on 9 for an even par 36 on tthe outward 9 hole's.  
Cameron
, opened the inward 9 with a birdie on 10, but had a double bogey 7 on the narrow, dogleg par 5, 11th hole.  The talented young player, regained his composure, and finished the final 7 hole's at even par, and posted a +1, (72) in his final round, and tied for 2nd place.
In the Girls Toyota Tour Championship, Kaitlyn You, shot 72-73 (145) to place 3rd in The Toyota Tour Championship at Industry Hills.  Kaitlyn, opened her round with a +1, 37 on the outward 9 hole's.  Kaitlyn got on a run and was -3 on her inward 9 through her first 7 hole's.  Unfortunately, she bogied 17 and 18 for a -1 under 35 and an even par 72 for her opening round.  Kaitlyn got off to a tough start in her second round as she was +3 in her first 7 hole's.  But, being a competitor,  Kaitlyn, regrouped and shot -2 on 8 thru 18, for a second round +1 over 73 and a good 3rd place finish, in a major event.  Her coach, George Pinnell, was somewhat surprised at the consistency that Kaitlyn showed throughout the event.  Kaitlyn, has made a pretty dramatic change's to her Club Path and Swing Direction that is giving Kaitlyn her desired ball flight.  According to Pinnell, "when a significant swing change is made, it usually requires ,a considerable amount of time before the player can "own" the swing and be able to compete, with the change, let along, get it correct with consistency on the range."  Pinnell, went on to say, "it is a credit to Kaitlyn's determination and work ethic, to make this change in a rather short period of time.  We want to make sure that we can continue to recreate the change's with consistency from day to day and week to week."
Reina Tain, Torrance, CA.,  posted 80-75 (155) to finish in a tie for 15th place.  Reina, got off to a difficult start by going 4 over par on her opening 4 hole's.  Reina, regrouped and made par's on 5, 6 and 7 before making bogies on 8 and for a +6,42.  On her inward 9 hole's she rebounded and shot a 38 for her 80.  Reina's 2nd round was a turnaround from her opening round.  She was +1 (37) through 9 hole's and then played her back side in a +2, 38, for her 75.  Again, consistency is the key for player's to improve their game.  "Reina, has been working hard and should be showing an improvement in her performance," Pinnell, said.
On the SCPGA Junior Tour, Franklin Zhu, shot a 42 and tied for 9th place in the Boys 9-11 Group at the Fullerton Spring Championship.
Bella Yang, shot a 78 and finished in a tie for 7th in the Girls 12-14 Group.  Alice Zhao, shot a 38 and tied for 4th in the Girls 9-11 Division.
At the Scholl Canyon Spring Championship, Alesia Barry, won the Girls 9-11 Division with a 36.  Samson Li, finished tied for 7th with a 36 in the Boys 9-11 Division.
At the Westlake Spring Championship, Alesia Barry, shot a 47 and finished in 6th place.
Congratulation's to Kaitlyn and Cameron for their play on the Toyota Tour this week and to 

all of the player's that are working hard to elevate their game as they grow, improve their golf swing and learn "how to PLAY the game".