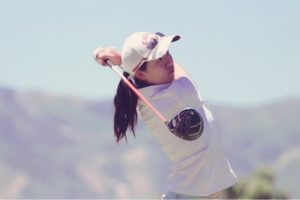 15 year old, Rose Zhang, Irvine, California, finished in 3rd place at the Rolex Girls Junior Championship.  The  72 hole event was played at the Promontory Club, Park City, Utah, June 11-15, 2018.  Rose, shot 71-70-72-75 (288), on the 6647 yard Promontory Club (7000′ elevation).  Yujeong Son of (South Korea) Norman, Oklahoma, won the Rolex with rounds of 69-70-72-73 (284) -4.  Elizabeth Wang, who has committed to Harvard University, finished in 2nd place with scores of 68-69-74-75 (286).
Rose's opening round of 71, placed her in a tie for 8th place.  Her 2nd round score of 70 put her into a tie for 3rd place.  Going into "moving day", Rose shot an even par 72, in the 3rd round, maintaining her tie for 3rd place.  Elizabeth Wang and Yujeong Son were in a tie for 1st place with a score of 211, concluding the 3rd round.
The 4th and final round, score's were higher, because of a prevailing wind that caused player's to lose control of their golf ball under the adverse weather condition.  Rose shot a 75, securing 3rd place while Yujeong Son won the event with her 73 and Elizabeth Wang posted a 75, for 2nd place.
The 3rd place finish for Zhang, vaulted her Rolex Ranking to #3 from #5.  The 15 year old has continued to be the #1 ranked girl in her class of 2021, for the past several year's.  Her Junior Golf Scoreboard ranking has moved Rose into the #2 Ranking!  The humble player from, Irvine, California, continue's her quest to improve her performance through hard work and her dedication to improvement with her swing coach and Josh Loyo her fitness coach.  Rose's, father, Henry, has been the guiding force behind this extraordinary young player.