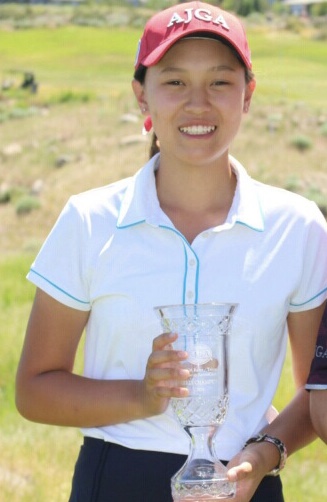 Charissa Shang, Calabasas, California, won her first AJGA (American Junior Golf Association) Tournament, The AJGA Reno/Tahoe Junior at ArrowCreek.  Charissa, shot 73-72-71 (216) even par on the par 72 layout.  Her first round consisted of 4 birdies, 3 bogies and 1 double bogey.  Charissa, got off to a good start on the 2nd day with 2 birdies on her front nine and played it in -2 under par.  She ran into a little trouble on the back side with bogies on 10 and 12, before parring out on the remaining 6 hole's, for and even par 72.  Charissa rose to the challenge in the 3rd and final round.  She got off to a pretty good start with par's on hole 1 and 2, before making birdie on her 3rd hole.  Unfortunately, she made bogey on 4 and a double bogey on 5 before settling down to par out on 6, 7, 8 and 9 for a 2 over 38.  Charissa's, responded to the challenge on the final 9 hole's of the event.  The freshman to be, made birdie on the 10th hole, parred the 11, birdied the 12, parred the 13th and made another birdie on 14 to go -3 under par on the first 5 hole's of her inward 9!  Charissa, remained steady and parred out on hole's 15 through 18, for a 71, -1 under par, in her final round, to secure the victory.
Angelina Kim, Los Angeles, was second with score's of 71– 77- 70 (218).  Jacqueline Ha, San Ramon, California, was 3rd, with score's of 71-74-75 (220).
Congratulation's to Charissa, on her first AJGA victory, and we wish her many more in her future.