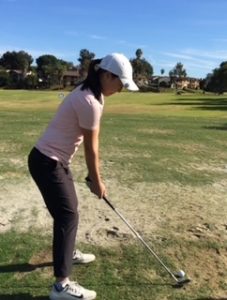 Kendra Lee, a junior, at Pacific Academy, Irvine, CA., won the Harry Pressler Memorial at Industry Hills on the Babe Zaharias Golf Course.  Kendra, shot a 75, in the 18 hole event on the difficult Babe course.  Kendra was happy with her overall performance, but said, "my green in regulation's (GIR) were pretty good, but my putting is what caused my bogies and a bad decision, caused my double bogey."  Kendra is anxious to continue her improved performance, and has been working hard to improve her skill set's.  Nicole Zhang, a sophomore, at the Pacific Academy, finished in 5th place with an 85.
Kendra's coach, George Pinnell, had a close association with Harry Pressler.  Pinnell, was an Assistant Golf Professional at Industry Hill's in the mid to late 1990's.  While working one day, Pinnell, noticed a large trophy with the name Harry Pressler Memorial Tournament engraved on the trophy.  Pinnell, was astonished to see Mr. Pressler's name on the trophy.  You see, a young George Pinnell, in his mid 20's was living in Vail, Colorado, and was an avid golfer and skier.  Pinnell was interested in a lesson, so he chose an older gentleman, Harry Pressler, to give him a lesson.  Little did Pinnell know, that Harry Pressler was a famed LPGA Instructor/Coach and taught in Vail in the summer's and in Scottsdale, in the winter's.  It was 20 year's later, when Pinnell, as a golf professional,  learned the "back story" on his teacher, Mr. Pressler was he a successful coach, Mr. Pressler, was often quoted in the PGA Teaching Manual.
Maddy Kwei, a sophomore, won the Los Amigos Summer Championship, with an 85.  Maddy, a hard working youngster, is working to improve her performance so that she can earn her way to play on the Toyota Tour.  We wish her the best in her challenge.