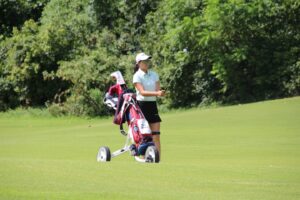 By AJGA Staff, August 19, 2020, CAPE GIRARDEAU, Mo. – Rose Zhang of Irvine, California, maintains her lead after the second round of the Rolex Girls Junior Championship with a second-round score of 10-under-par 134.
Zhang had a bogey on the first hole, but rallied on the back nine with three birdies and no bogeys to give her a four-stroke lead after 36 holes.
"I am not going to think about the lead as much. I try to go out there and play as well as I can. I think every single hole is quite difficult so course management will be important tomorrow." – ROSE ZHANG
As the No. 1 player in the Rolex AJGA Rankings and reigning Rolex Junior Player of the Year, Zhang is looking for her second AJGA win of the season. She won the 2019 Rolex Tournament of Champions in November and placed T3 at the 2020 ANNIKA Invitational USA presented by Rolex in January.
Zhang's national junior golf resume also includes a win at the 2020 U.S. Women's Amateur at Woodmont Country Club.
"Playing this prestigious event is great in itself so being in the lead is something very honorable. I will go out there and try my best over the next few days." – ROSE ZHANG
Paula Miranda of Puebla, Mexico, is in second place at 6-under-par 138 after the second round. She played solid throughout the round carding zero bogeys and three birdies to finish at 3-under-par 69.
Bohyun Park of (South Korea) Farmers Branch, Texas, and Kyung Eun Lee of Honolulu, Hawaii, are tied for third at 4-under-par 140. Lee tied the low round of the day with a 5-under-par 67.
Catherine Rao of Camarillo, California, and Leila Raines of Galena, Ohio, are tied for fifth with Raines matching Lee's round of 5-under-par 67.
Vania Simont of CDMX, Mexico, is in seventh place with Katie Li of Basking Ridge, New Jersey, and Bailey Davis of White Plains, Maryland, tied for eighth. Rounding out the top-10, Symran Shah of Carrollton, Texas, and Megha Ganne of Holmdel, New Jersey, sit at even-par 144.