September 13, 2020
by Brayden Conover of AmateurGolf.com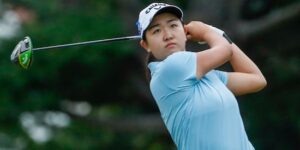 Amateur golfers are no longer just fun storylines at major women's championships.
A record-tying five amateurs made the cut at the ANA Inspiration, led by the 2020 U.S. Women's Amateur champion Rose Zhang and 2019 champion Gabriela Ruffels. The duo finished on the second page of the leaderboard at the LPGA's second major of the COVID-19 altered season.
Zhang, who won the 2018 ANA Junior Inspiration, broke the amateur scoring record at the ANA Inspiration with a final round 72 which was capped off with a birdie on the par 5 18th. Overshooting the green, the 17-year-old high school senior had a touchy down grain putt from just off the green which ran out to nearly six feet past. With a testy comebacker for a birdie, Zhang knocked it home for a record-setting week to get the best of Ruffels for the second time in less than a month.
"Coming into this week I wasn't as prepared as I normally would be," Zhang said following her final round. "I had no real expectations."
With the even par final round, Zhang finished a shot away from a top-10 finish at eight under par for the week. It was the lowest score ever by an amateur at the storied event.
Ruffels, a USC senior and a somewhat newbie to the game of golf finished at seven under par which would have been good for a tie of the amateur scoring record had Zhang not birdied the last. One under through nine, Ruffels looked to be positioning herself for a run at a top-5 finish.
The run looked good until the Trojan senior reached the final three holes. Carding back to back bogeys on Nos. 16 and 17, Ruffles fell from three under back down to one under as she headed to the closing hole. Parring the 18th, Ruffels' run came to a close as she finished in a three-way tie for 15th at seven under.
Finishing third amongst amateurs in the field, Stanford's Lei Ye closed out her play at the first major of the year on this side of the pond with a three under 69, rebounding from Saturday's 76. Posting four front side birdies, Lei capped off the week with a birdie on 18.
Wake Forest's Emilia Migliaccio and Arizona State's Olivia Mehaffey were some of the first women out on Sunday as they were a combined nine over par on Sunday. Migliaccio finished in 72nd place while Mehaffey finished tied for 74th at 13 over.