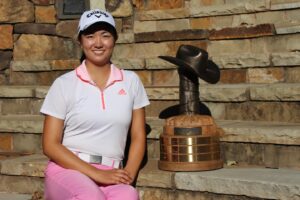 By AJGA Staff, October 12, 2020
Rose Zhang of Irvine, California, joined Jordan Spieth as the only two-time PING Invitational champions after a come-from-behind victory. Kelly Chinn of Great Falls, Virginia, went wire-to-wire to earn his second AJGA Invitational title.
The 14th PING Invitational showcased the best of the next generation of future college and professional stars. The tournament was hosted at Karsten Creek, home to the Oklahoma State University Men's and Women's Golf teams.
There were 22 Rolex Junior All-Americans and 52 AJGA champions in the field. In addition, there were 44 college commits and five players hailing from four international countries.
Zhang entered the day four strokes off the lead at 1-over-par 145. She wasted little time vaulting up the leaderboard however, as the Stanford University commit posted three birdies on the front nine to make the turn at 3-under-par 33. The 2019 Rolex Junior Player of the Year added two more birdies on the back nine to post a flawless bogey-free round of 5-under-par 67. Zhang's round was the lowest of the tournament in the Girls Division. She finished the tournament at 4-under-par 212.
"At Karsten Creek, obviously you have to have a really patient game. You have to be prepared on every single hole, and every single shot. My mindset going into each round and each shot was really good, and it really helped me stay steady and patient on the course."
– ROSE ZHANG
Zhang, who also won the tournament in 2018, is the first two-time PING Invitational champion in Girls Division history. This victory marks the seventh AJGA Invitational win of her career.
The accomplished golfer is having quite the year, with wins at the Rolex Girls Junior Championship and the U.S. Women's Amateur. She also finished T11 at the ANA Inspiration. Zhang is a three-time Rolex Junior All-American who was recently awarded the Mark H. McCormack Medal as the world's top-ranked female amateur.
"It's such a great honor. I've heard that Jordan Spieth was the only other two-time champion of this event, and to be the first female player to do that is such an honor. I'm just so excited to see where my game will take me."
– ROSE ZHANG
Yunxuan (Michelle) Zhang of (China) Plano, Texas, finished second at 3-under-par 213. Zhang carded a bogey-free front nine that included three birdies. She finished the final round at 1-under-par 71. The SMU commit is No. 11 in the Rolex AJGA Rankings. Zhang is a 2019 Rolex Junior All-American and three-time AJGA champion, which includes a victory this year at the Under Armour® / Jordan Spieth Championship.
Lynn Lim of Gallatin, Tennessee, and Catherine Rao of Camarillo, California, finished T3 at even-par 216. Lim is a Vanderbilt University commit who owns two AJGA victories, including an Invitational title at the 2019 AJGA Junior All-Star Invitational at Reynolds Lake Oconee. Rao is No. 23 in the Rolex AJGA Rankings and owns three top-10 finishes in 2020.
Kyung Eun Lee of Honolulu, Hawaii, and Grace Summerhays of Scottsdale, Arizona, finished T5 at 3-over-par 219. Lee finished second at the Circle K Junior Championship hosted by Otter Creek in June and is No. T58 in the Rolex AJGA Rankings. Summerhays finished T6 at the AJGA Girls Invitational at Stanford and is No. 33 in the Rolex AJGA Rankings. This is the best finish for both players in an AJGA Invitational.