ROLEX TOURNAMENT OF CHAMPIONS
By AJGA Staff
November 28, 2020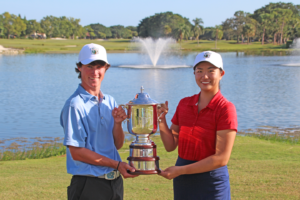 Rose Zhang of Irvine, California, and David Ford of Peachtree Corners, Georgia, won the 43rd Rolex Tournament of Champions at PGA National Resort & Spa.
The Rolex Tournament of Champions features 144 of the best junior golfers in the world from 26 states and seven countries. The tournament assembles the Rolex Junior All-Americans with the past year's champions to create The Greatest Week in Junior Golf. There are 81 current or former Rolex Junior All-Americans in the field, with a total of 91 AJGA champions competing.
Past winners of the Rolex Tournament of Champions include Phil Mickelson, David Duval, Charles Howell, David Gossett, Webb Simpson, Sam Burns, Heather Farr, Kellee Booth, Inbee Park, Morgan Pressel and Alison Lee.
Zhang came into the final round with a three-shot lead at 10-under-par 206. The two-time Rolex Junior Player of the Year kept her playing partners in the hunt as she parred her first four holes of the day before making a birdie on hole No. 5 of the Fazio Course. After making four more pars, Zhang made the turn tied at the top with Xin (Cindy) Kou of (China) Whittier, California.
Despite being tied at the top for the first time since early in round one, Zhang kept her composure and turned up her game heading into the back nine. The Stanford University signee fired four birdies between Nos. 10-15 to pull away from Kou for good. Zhang capped off her second Rolex Tournament of Champions victory in a row with a birdie on the final hole, finishing at 6-under-par 66 on the day. She ultimately won the tournament by four strokes at 16-under-par 272.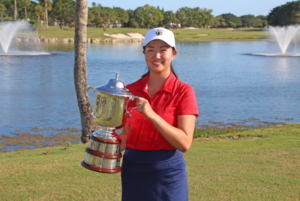 "I didn't want to force anything out on the course since if you do that in golf there's bound to be mistakes. I just tried to play as solid as possible and whenever I had a birdie chance I tried to convert it."
– ROSE ZHANG
Zhang is already a two-time AJGA Invitational champion this year with wins at the Rolex Girls Junior Championship and The PING Invitational. She now owns 10 AJGA victories. Zhang also won the U.S. Women's Amateur and finished T11 at the LPGA Tour's ANA Inspiration this year. She's No. 1 in both the Women's Amateur Golf Rankings and the Rolex AJGA Rankings.
Kou gave Zhang a run early in the final round as she birdied four of her first six holes. Kou made the turn at 4-under-par 32 with a share of the lead. The University of Southern California signee added two more birdies and a bogey on the back nine to finish at 5-under-par 67 on the day and 12-under-par 276 for the tournament. Kou owns 11 AJGA victories, which is seven short of the all-time Girls Division record. She's No. 3 in the Rolex AJGA Rankings.
Madison Hewlett of Oldsmar, Florida, and Megha Ganne of Holmdel, New Jersey, finished T3 at 6-under-par 282. Hewlett won the 2019 AJGA Junior at Victoria Hills and is committed to Florida State University. Ganne won the 2018 AJGA Championship presented by Stuart Francis, Princeton Varsity Golf '74 and is committed to Stanford University. Hewlett is No. 53 in the Rolex AJGA Rankings while Ganne is No. 8.
Lucie Malchirand of Carnoux, France, and Alexa Pano of Lake Worth, Florida, finished T5 at 4-under-par 284. Malchirand finished second at the Junior Orange Bowl International Golf Championship in January and is No. 30 in the Rolex AJGA Rankings. Pano won the Kathy Whitworth Invitational in March and is a four-time Rolex Junior All-American. Pano is No. 4 in the Rolex AJGA Rankings.
Hyo Joon Jang of Seoul, South Korea, finished seventh at 3-under-par 285. She finished T2 at the AJGA Girls Championship.
Amanda Sambach of Davidson, North Carolina, finished eighth at 2-under-par 286. She won the Rolex Tournament of Champions in 2018.
Izzy M. Pellot of Altamonte Springs, Florida, finished ninth at 1-under-par 287. She owns two AJGA victories.
Bailey Shoemaker of West Edmeston, New York, finished tenth at 1-over-par 289. She's committed to the University of Southern California.
David Ford full body holding big trophy AJGA hat – 2020 – Rolex Tournament of Champinos.png
Ford entered the final round with a seven-stroke lead at 19-under-par 196. Knowing he was in control of his own destiny, Ford played a steady round of golf on the Champion Course to secure his third AJGA Invitational victory of the year. The University of North Carolina at Chapel Hill signee carded four birdies and a bogey to finish the final round at 3-under-par 68. Ford won the tournament by seven shots at 22-under-par 264. He was two shots shy of tying the 72-hole AJGA scoring record.
"It's more the love of the game that motives me and keeps me going. When I have a bad putting day it makes me want to putt for 8 hours and when I hit the ball horribly it makes me want to hit balls until my hands bleed."
-DAVID FORD
All three of Ford's AJGA Invitational victories came at venues that host PGA TOUR tournaments. The two-time Rolex Junior All-American won The Junior PLAYERS Championship (The PLAYERS Championship) and the AJGA Invitational at Sedgefield (Wyndham Championship). Ford is No. 2 in the Rolex AJGA Rankings.
Bruce Murphy of Johns Creek, Georgia, finished second at 15-under-par 271. The University of Tennessee commit won the Greenwood Junior Championship and the Rome Junior Classic this year. He's No. 20 in the Rolex AJGA Rankings.
Sean-Karl Dobson of Austin, Texas, finished third at 14-under-par 272. His week was highlighted by a final round 6-under-par 65 on the Champion Course, which was the lowest round of the day in the Boys Division. The 2021 AJGA Player Rep is No. 24 in the Rolex AJGA Rankings and committed to Stanford University.
Gordon Sargent of Birmingham, Alabama, finished fourth at 13-under-par 273. The three-time Rolex Junior All-American owns two AJGA victories and is committed to Vanderbilt University. He's No. 6 in the Rolex AJGA Rankings.
William Love of Atlanta, finished fifth at 11-under-par 275. The Duke University commit won the 2020 Sean Foley Performance Junior Championship.
Scotty Kennon of Bradenton, Florida, finished sixth at 9-under-par 277. The Wake Forest University signee is a two-time Rolex Junior All-American.
Luke Sample of New York, New York, finished seventh at 8-under-par 278. The Duke University signee owns three AJGA victories.
Preston Summerhays of Scottsdale, Arizona; Caleb Surratt of Indian Trail, North Carolina, and Thomas Morrison of Dallas, finished T8 at 7-under-par 279.