Nov 28, 2020
by Brayden Conover of AmateurGolf.com.
see also: Rose Zhang Rankings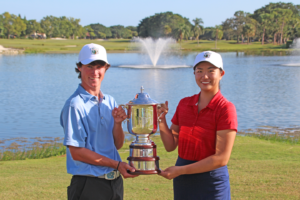 Rose Zhang has had herself one heck of a year.
Seemingly the only person in the world to find continual successes in 2020, Zhang dominated the AJGA Rolex Tournament of Champions at PGA National Resort & Spa. The win marks her second such title as she successfully defended her 2019 win. In so doing she becomes the first repeat winner since Beth Bauer in 1995.
Coming into the final round at 10-under, 206, Zhang held a three shot lead and was looking to cap off a textbook championship. Beginning her round with four straight pars, Zhang allowed her playing partner, China's Xin (Cindy) Kou to hang around through the front nine as the pair were tied as they headed to the final nine holes of the four-round event.
It was not until crunch time that the 2020 U.S. Women's Amateur Champion turned on her best play of the week. Birdies on Nos. 10, 11, 13, 14, and 18 gave Zhang a return score of 31, giving her a four stroke win over Kou and the rest of the field.
The win marks Zhang's 10th AJGA title. With the U.S. Amateur, three AJGA titles, and a record-setting T-11 at the LPGA's ANA Inspiration, Zhang has had quite an impressive 12 months.
Continuing to impress, Zhang logged 90 holes without a bogey on her card at the Tournament of Champions between 2019 and 2020. After making a bogey on the 11th at the Champion Course during the first round of 2019's TOC, Zhang ended her streak on the third hole on the Fazio Course in the second round this week.
Behind Zhang, it was Kou who took second place all to herself. The Southern Cal signee was 12-under for the week and gave Zhang a run for her money on the front nine on Saturday. Coming up four strokes short, Kou can take ease in knowing had it not been for the WAGR No. 1 player in the world, she would have had a six shot win.
Zhang was not the only one resetting the record books this week.
In the boys' division, David Ford flirted with a 72-hole scoring record that was set by a former LSU Tiger. Back in 2015, Philip Barbaree blazed his way into the AJGA record books with a 24-under-par score. This year, David Ford, a UNC-Chapel Hill signee nearly tied Barbaree's record.
Cruising to a seven shot victory on Saturday and maintaining the seven shot lead he entered the day with, Ford took care of business on the Fazio course on Friday with a 10-under 62. Not hungover from turkey, stuffing, and green bean casserole, Ford strung together 10 birdies in a bogey-free Black Friday effort.
Following the 10-under round with a closing 4-under 68, Ford came up two shots short of Barbaree's record.
Ford now has three AJGA Invitational wins. All of such wins have come at PGA Tour stops.
Runners up to the near-historic tournament were Tennessee commit Bruce Murphy and Stanford commit Sean-Karl Dobson who finished at 15 and 14-under respectively.
View results for Rolex Tournament of Champions
ABOUT THE ROLEX TOURNAMENT OF CHAMPIONS
One of the AJGA series of tournaments that require an invitation to participate. Format is 72 holes of stroke play, with boys and girls competitions.
View Complete Tournament Information