DECEMBER 9, 2020 | HOUSTON, TEXAS
By David Shefter, USGA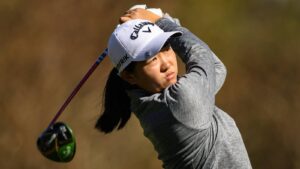 Rose Zhang isn't the type of person who is wowed by numbers. For the past three months, she has occupied the No. 1 spot in the World Amateur Golf Ranking®, but the Irvine, Calif., teen is less focused on her lofty status than she is on her next event. If she happens to perform well, which has happened a lot in 2020, peripheral honors will fall neatly into place.
"I really don't look at the rankings, to be honest," said Zhang following her Tuesday practice round for the 75th U.S. Women's Open at Champions Golf Club.
Zhang might not pay attention, but the golf world has certainly taken notice of her. The 17-year-old, who will play for Stanford University next fall, has competed in five amateur events this year and won four, the most memorable of which was her 38-hole victory over defending champion Gabriela Ruffels in the final of the 120th U.S. Women's Amateur in August.
Having ascended to No. 1 after taking low-amateur honors in the ANA Inspiration in September, Zhang has gone on to capture two prestigious American Junior Golf Association events: the Ping Invitational at Karsten Creek in Stillwater, Okla., and the Rolex Tournament of Champions at PGA National in Palm Beach Gardens, Fla.
While only one amateur (Catherine Lacoste of France in 1967) has managed to claim the U.S. Women's Open in the 74 previous iterations, nobody would be shocked to see Zhang contend against the world's best players.
But she isn't the only amateur who could impress this week. The contingent assembled in Houston arguably could be the strongest in the championship's history. Because of the COVID-19 pandemic, the USGA had to forgo its qualifying process for an all-exempt field. So along with the usual amateur exemptions – champion and runner-up from the previous U.S. Women's Amateur, 2019 McCormack Medal winner, reigning U.S. Girls' Junior and U.S. Women's Mid-Amateur champions – the USGA invited the first 20 players in the WAGR who were not previously exempt.
Amateurs are typically a significant part of the U.S. Women's Open story – at least 14 have qualified for every championship since 2000 – but the additional WAGR exemption for 2020 strengthened the group.
Twenty of the current WAGR top 30 are here. Some are past Curtis Cup competitors (Olivia Mehaffey and Lily May Humphreys of Great Britain and Ireland). Four are USGA champions (Zhang, Ruffels, Lei Ye and Kaitlyn Papp). Some are strong contenders to play for the USA Curtis Cup Team in the rescheduled Match next August in Wales (Emilia Migliaccio, Auston Kim, Zhang, Papp and Allisen Corpuz). Pauline Roussin-Bouchard, of France, No. 3 in the world and a University of South Carolina All-American, has already won one of the few collegiate events held this fall.
"I definitely think a lot of amateurs will be up there this week," said world No. 6 Migliaccio, a Wake Forest All-American from Cary, N.C., who qualified for the 2018 U.S. Women's Open. "We proved ourselves quite well in the ANA [Inspiration] with Rose Zhang (T-11) and Gabby Ruffels (T-15) leading the pack. Almost all the amateurs (5 of 6) made the cut."
Zhang and Ruffels not only staged a memorable duel in the U.S. Women's Amateur at Woodmont Country Club in Rockville, Md., they had another dramatic battle in the California desert, with the former edging the University of Southern California senior from Australia by one stroke for ANA low amateur.
Both players relish the big stage, and neither is lacking major-championship experience. This is the fourth major-championship start for each of them, and Ruffels has competed in several other professional events around the world.
Each of those starts has brought more comfort to the world No. 10.
"It's not as overwhelming," said Ruffels, who also competed in a men's amateur event this summer in Florida. "I don't really set goals. I just try to go out there and do my best because I feel like that's all I can do. I'm excited to be here."
Any one of the 24 amateurs could sneak into the top 10 or even into contention on Sunday.
In 2005, Morgan Pressel and Brittany Lang were victimized by a miracle Birdie Kim hole-out from a greenside bunker on the 72nd hole at Cherry Hills. Both finished two strokes back. In 2017 at Trump National Golf Club in Bedminster, N.J., teenager Hye-Jin Choi was in contention until the 16th hole on Sunday. She finished second to countrywoman Sung-Hyun Park.
In 2018 at Shoal Creek, Linn Grant, of Sweden, was four strokes back of leader Sarah Jane Smith through 36 holes before struggling on the weekend. The current world No. 5 and sophomore at Arizona State is in the field this week.
Playing in a U.S. Women's Open also provides a forum for these players to watch and learn from the game's best.
"Every time I am on the [practice] putting green, I see someone I look up to so much," said Zhang, whose tenure as No. 1 in the world earned her the 2020 McCormack Medal.
As for contending or possibly winning the championship, Zhang added: "I don't necessarily think about that. I don't want to get too far ahead of myself."
David Shefter is a senior staff writer for the USGA. Email him at dshefter@usga.org.