By Jay Coffin/ Mar 17, 2021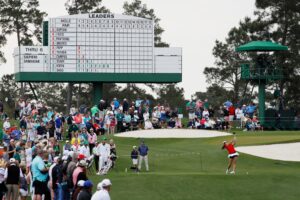 Rose Zhang is wise beyond her 17 years.
The No. 1-ranked player in the World Amateur Golf Ranking knows that she sits amongst the top of the favorites heading into the Augusta National Women's Amateur. She's aware that anyone who has paid any bit of attention to women's golf over the past 52 weeks is expecting her to contend in the second annual championship held March 31-April 3 at Champions Retreat Golf Club and Augusta National Golf Club in Augusta, Ga.
But Zhang has made it abundantly clear that outside expectations are not what concerns her. It's not what drives her. It does not matter. It will not alter her own detailed game plan.
"I'm just going to stay in my stride and do what I can."
– Rose Zhang
The high school senior from Irvine, Calif., intends to do what she always does – prepare to the best of her ability and then go out and execute. Zhang tied for 17th at the 2019 Augusta National Women's Amateur, when she was just 15 years old. She is a much different player now.
"I think the preparation and the process is more important and it helps me clear my mindset and perform in a way that I can be satisfied with," Zhang said. "I'm just going to stay in my stride and do what I can."
What Zhang can do is dominate. That is apparent from the results she posted while playing a limited schedule in a COVID-altered 2020. In fact, her current dominant stretch dates back 18 months.
Zhang has won six of the last seven amateur events in which she has competed, beginning with the Swinging Skirts AJGA Invitational late in the summer of 2019 and running through the end of 2020 when she sailed to a four-stroke victory at the AJGA's Rolex Tournament of Champions. In September, Zhang tied for 11th at the ANA Inspiration – alongside the likes of LPGA stars Danielle Kang and Ariya Jutanugarn – to earn low amateur honors in the professional major.
A month earlier, Zhang pulled off her most impressive feat to date, stunning defending champion Gabriela Ruffels on the 38th hole of the championship match in the U.S. Women's Amateur. Zhang had considered withdrawing from the event because of pain in her left wrist, but rested it for 10 days prior and then mustered enough determination to eventually hoist the trophy.
"I'm thankful and honored to be able to have the opportunities and convert them into great scores," Zhang said. "It feels like it's been in the past a little. I haven't been able to think about it a lot."
Zhang closed out the year competing in the U.S. Women's Open at Champions Golf Club, then went home to California for the holidays and continued practicing. But the pain in her wrist persisted, so she opted to completely shut down her game for six weeks. Zhang finally picked up a club again in mid-February.
"I have never had a break before," she said sheepishly. "I kind of messed up my daily routine and schedule and what I was usually used to. I've never done that. It was definitely quite difficult, but it helped my wrist recover a lot."
Zhang said the rest and relaxation has her wrist "close to 100%" and is thankful that "it doesn't hurt anymore." Though her wrist is no longer bothersome, the break did cause Zhang to develop competitive rust, having not played in a tournament for three months. She will test her game – and her wrist – later this week in a 72-hole Symetra Tour event, the Carlisle Arizona Women's Golf Classic in Mesa, Ariz. That will be Zhang's only warmup for the Augusta National Women's Amateur, but it will help guide her preparation the following week at home in California before making the cross-country trip to Georgia.
Once in Augusta, Zhang knows many eyes will be on her, no matter how she plays in the Arizona tune-up event. The 17th-place showing two years ago at the Augusta National Women's Amateur taught her so many lessons that she has trouble listing them all.
Sure, qualifying for the final round at Augusta National as one of the top 30 players is the big goal, but Zhang is aware that she first must find a way to tame Champions Retreat for 36 holes in order to have a chance to compete for the ultimate prize.
"There's definitely a lot of course management that you need to be able to do on both courses," Zhang said. "I learned from two years ago that I need to do that in order to give myself the best position for par and birdie looks.
"I'm definitely trying to enjoy it a little bit more, but I'll have the same mentality as any other players. I'm not thinking about rankings or anything. I'm going there without having too much pressure on myself or trying to meet other people's expectations."