By Jay Coffin/ Thu 01 Apr 2021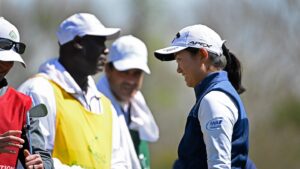 Rose Zhang used her patience and persistence while Ingrid Lindblad utilized her strength and determination as the duo finish tied atop the leader board Thursday after the first two rounds of the Augusta National Women's Amateur at Champions Retreat Golf Club.
Zhang, ranked No. 1 in the World Amateur Golf Ranking (WAGR), followed her opening-round 71 with an even-par 72 on a chilly, windy day in Augusta. Lindblad, ranked No. 4 in the world, made double bogey on the par-5 ninth hole before rattling off five birdies during a sensational second-nine 31 to shoot two-under 70. Both sit at one-under-par 143 through the championship's first two days.
Olivia Mehaffey, who shot a championship-low 69 on Thursday, and Auston Kim (72) are tied for third place at even par, one stroke behind the leaders. Gina Kim, Tsubasa Kajitani of Japan and Karen Fredgaard of Denmark – the first-round co-leader – are tied for fifth place at one-over-par 145. Nine other players enter Saturday's final round within five strokes of the lead.
All participants will play a practice round at Augusta National Golf Club, the home of the Masters Tournament, on Friday, April 2. The top-30 players will go on to play their final round on Saturday, which will be broadcast live on NBC from noon – 3:00 p.m. EDT.
Whittling the field to exactly 30 players required a playoff with five players competing for one final position on the par-4 10th hole. Yu-Sang Hou, Amari Avery, Maja Stark, Lauren Hartlage and Katherine Smith teed off in a group of five with the sun setting in the distance and patrons onlooking.
All five players hit strong drives, four of the five hit approach shots onto the green, but Stark was the only one to walk away with a birdie after sinking a putt from 18-feet that gave her the valuable 30th position. She had bogeyed the same hole in each of the first two rounds.
"I was very nervous," said the feisty Swede. "I have my brother on the bag and I asked him to check my pulse while we were standing on the tee."
Stark, a 21-year-old sophomore at Oklahoma State, shot a first-round 78 and knew it would be a difficult task to earn a spot in Saturday's final round. But she persevered all day on Thursday in tough conditions and shot a one-over 73 to ultimately sneak into the playoff.
An oddity for Stark over the two-day stretch and 36 holes was that she only made three birdies. However, she collected two of them at the perfect time, running in a 12-footer on the 36th and final hole of regulation to earn a spot in the playoff, before making birdie on the first playoff hole to advance to Saturday.
"I don't think I ever calmed myself down," Stark said. "I think I enjoyed the adrenaline. I think I just tried to embrace it. It's an honor and a privilege to get to feel that way sometimes. I just tried to soak it up and behave like I normally do."
When Stark was done, she was relieved that she would be joining fellow Swedes Lindblad (co-leader), Linn Grant (T8) and Beatrice Wallin (T14) in the final round. All four countrywomen are ranked in the top 10 of the WAGR.
Stark also revealed that she had a big test in her developmental psychology class that started in 45 minutes, but was hoping for a pass because of her circumstances.
Zhang, a 17-year-old from Irvine, California, and Lindblad, a 20-year-old sophomore at Louisiana State University, both entered the Augusta National Women's Amateur among the top contenders.
On Thursday, Zhang showed why she's the top player in the world when she managed to hold back frustration even though several makeable putts did not fall. She opened with birdies on the first and eighth holes and it appeared as if she was going to build upon her lead. But Zhang didn't adjust to the wind as well as she would've liked and rather than having birdie attempts on the three par-5s over the last 10 holes, she ended up making bogey on all three.
"Today was definitely a lot more windy, and some of the pin locations were a lot tougher than yesterday, but I think that the wind really made the scores a lot higher, and it was a lot harder to play out there," Zhang said.
Lindblad says that she hit all her bad shots during the double-bogey 7 on the ninth hole. From there, she altered her game plan and decided to fire at as many pins as she could over the remaining nine holes.
The plan worked perfectly and she lasered approaches on No. 10 to seven feet and No. 12 to four feet, making birdie on both. Lindblad made longer putts of 25 and 18 feet on the 13th and 16th holes, respectively, then hit her second-shot approach onto the green at the par-5 18th and two putted for birdie from over 40 feet.
"I just went out and made birdies," Lindblad said. "I'm feeling pretty good. My putting has been really good.
"I just want to win."