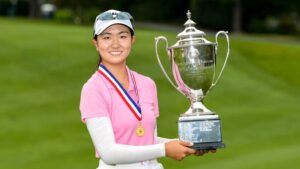 JULY 17, 2021 | CHEVY CHASE, MD.
By Mike Trostel, USGA
What Happened
For nearly her entire life, Rose Zhang has made history with a golf club in her hands. She added to her illustrious list of accomplishments on Saturday, with a 6-and-4 victory over Bailey Davis to win the 72nd U.S. Girls' Junior at Columbia Country Club in Chevy Chase, Md.
Zhang, who came into this week as the No. 1 player in the World Amateur Golf Ranking, now holds two USGA titles concurrently: the Girls' Junior and the U.S. Women's Amateur, which she won 11 months ago at Woodmont Country Club in Rockville, Md., just 8 miles from Columbia. Zhang is the eighth player to have won both championships and the first to have won the Women's Amateur first.
"To be able to win in such a grueling week, it's truly amazing," said Zhang, 18, of Irvine, Calif. "In USGA events, you really need your 'A' game in terms of your patience, your grit and your golf game."
After a 3-hour, 15-minute delay for dangerous weather, Zhang fittingly closed the match in style, hitting the flagstick with her 138-yard approach on the par-4 32nd. She converted the 5-foot birdie putt – her 10th of the day – and was promptly doused with a celebratory water shower. With the Girls' Junior canceled last year due to the COVID-19 pandemic, winning the Glenna Collett Vare Trophy was worth the wait for Zhang.
"I'm really proud of the commitment and work that I put in over the past year," said Zhang, an incoming freshman at Stanford University. "I've gotten more experienced, both in how I play and how I handle myself. And after last year, it was a really special week getting to see people cheering us on."
Even in defeat, Maryland native Bailey Davis won over countless fans through her sparkling play and positive attitude. (Kathryn Riley/USGA)
Zhang was relentless from her first swing on Saturday, rarely out of position at any point. She hit 16 greens in the morning round and putted for birdie on all 18 holes, constantly putting pressure on Davis. She converted six of those birdies, shooting a bogey-free, 6-under 64 (with match play concessions) to take a 4-up lead into the break.
She dropped the opening hole of the afternoon round after her drive found the fairway bunker and she made bogey. After halving the next three holes with pars, Zhang made back-to-back birdies on the 23rd and 24th holes, the latter a wedge to 4 feet that extended her lead to 5 up. She pushed her margin to 6 up at the par-3 26th after Davis hit her tee shot long and failed to get up and down.
The match looked like it could end on the par-5 30th when Davis faced a 12-foot birdie putt to stay alive, but she calmly rolled it in to match Zhang's birdie, flashing her trademark smile to the delight of the local fans.
Zhang made her worst swing of the day at the par-3 31st, sailing her 6-iron over the green. It led to her second bogey of the day. A two-putt par by Davis extended the match, but as the players walked to the 32nd tee, the horn blew for a dangerous weather situation.
For Davis, 18, of White Plains, Md., despite the ending, it was a dream week in her home state. She may have lost the match, but she won a lot of fans in the process.
"This entire week has been unbelievable," said Davis, who was attempting to become the first Black American female to win a USGA championship. "Based on the response from social media, I think I have touched a few girls this week. I'm going to try to respond to as many people as I can."
What the Champion Receives
A gold medal
Custody of the Glenna Collett Vare Trophy for one year
Exemption into the 2022 U.S. Women's Open at Pine Needles Lodge & Golf Club in Southern Pines, N.C.
Exemptions into next month's U.S. Women's Amateur at Westchester Country Club in Rye, N.Y., and the 2022 U.S. Women's Amateur at Chambers Bay in University Place, Wash.
Invitation to the 2022 Augusta National Women's Amateur
Notable
For finishing runner-up, Davis receives a silver medal and an exemption into next month's U.S. Women's Amateur.
Zhang is the first medalist to win the Girls' Junior since Ariya Jutanugarn in 2011.
Since 2019, Zhang has won 15 of 16 matches in USGA championships, with her only loss coming to 2021 U.S. Women's Open champion Yuka Saso in the quarterfinals of the 2019 Girls' Junior.
Davis lost the par-5 fifth hole twice on Saturday after winning it in each of her first five matches.
Two players who advanced to match play, Yana Wilson (quarterfinals) and Chloe Lam (Rd. of 32), were among the fans walking with Saturday's final match. ESPN broadcaster and Columbia member Tony Kornheiser was also out following the action.
Zhang's caddie was Doug Hurson, who played collegiately at the College of William and Mary and is a two-time club champion at Columbia. Davis had Joe Pakaluk on the bag, a caddie at Columbia who has seven younger siblings.
The Girls' Junior was the third USGA championship conducted at Columbia. The club also hosted the 1921 U.S. Open, won by Jim Barnes, and the 2003 U.S. Junior Amateur, won by Brian Harman.
The starter for the match was Columbia's head golf professional, Bob Dolan. He is one of three head pros in club history, following Fred McLeod (1911-1967) and Bill Strausbaugh (1967-1994).
Quotable
"The gold medal speaks for itself. Winning this championship is something I'll remember for a lifetime." – Zhang
"It was amazing having so many people out here. A lot of friends and family; teachers and coaches; I am beyond blessed to have them out here. I was 6-down at one point and they were like, 'You got this!'" – Davis, on the support from fans in the match
"Maryland will always hold a special place in my heart." – Zhang, on winning two USGA championships in the state
"I kind of surprised myself getting to this point, but at the same time, I knew what I was capable of, and it feels amazing to have reached the final and play to my potential this week." – Davis
"I think caddies are underappreciated. Doug [Hurson] was amazing and since he knew the greens as well as any club champion would, he read the lines perfectly. Everything just clicked. Without him I definitely wouldn't have gotten this championship." – Zhang
"The girls at the course have been so nervous to talk to me, but I don't want anyone to feel that way. I would love to talk to anybody. I love taking pictures with them. Signing autographs for them. I love it all." – Davis
"Coming into the week everyone just expects you to play well. It feels great that they have really high standards for me, but golf is a difficult sport. Everyone is playing the same grounds, playing from the same tee, and you're playing in the same conditions." – Zhang, on dealing with the pressure of high expectations
"In earlier matches, I was able to get away with pars and let my opponents make bogey. Against Rose, I knew I would have to make some birdies. At the beginning of the match I was matching her and I felt really good. Then doing that the entire match gets pretty tiring. I was able to limit my mistakes, but obviously not enough." – Davis, on the challenge of playing against Zhang
Mike Trostel is the executive producer of content for the USGA. Email him at mtrostel@usga.org.