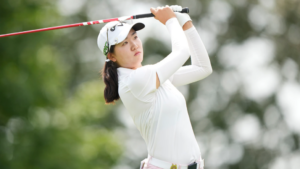 By Brentley Romine August 25, 2021
With the 2020-21 men's and women's college golf seasons about to begin, GolfChannel.com provides you with everything you need to know about the top teams and players in the country. Below is a breakdown of the preseason top 30 women's individuals:
---
It's not often a reigning Annika Award winner who won six times, including the NCAA individual title, is not even the most talked about player on her team entering the new season.
The again, it's not often that a recruit of Rose Zhang's caliber arrives on a college campus.
Don't get us wrong, Rachel Heck is very talented, but her Stanford teammate enters school as not only the top-ranked player in the Women's World Amateur Golf Ranking, one spot ahead of Heck, but also after making history this summer by becoming the first player to win the U.S. Women's Amateur and U.S. Girls' Junior in that order. Zhang's U.S. Girls' Junior win over Bailey Davis in July came a year after she took down Gabi Ruffels in the U.S. Women's Amateur.
Zhang, a two-time Rolex Junior Player of the Year, has already teed it up in six LPGA majors, making four cuts and tying for 11th at last year's ANA Inspiration.
"It's gotta be Rose, right?" said one coach when contemplating who's the Annika Award favorite for the upcoming season.
So, what makes Zhang so good?
"It's her humility," Stanford head coach Anne Walker said. "She's so incredibly humble. I never talk to that kid where she doesn't talk about something she learned, or something she could be better at, and not in a contrived sort of way; it's very genuine. I have not been around a player who loves the process as much as that kid. And it doesn't mean that she's not competitive – she's darn-well competitive as they come, obviously – but she truly loves the grind, and that's unusual for that age."
Walker said she talked with Zhang over the phone recently, and she relayed that Zhang is beyond excited to get to campus, even asking questions about what she should bring to decorate her dorm room.
"She just can't wait to be immersed and be a normal kid," Walker said.
Of course, Zhang is anything but normal on the golf course. She's a generational talent, arguably the best women's recruit in decades, and that's why she's GolfChannel.com's top-ranked player to start the fall.
Here is a look at the top 30 women's individuals in the country as we enter another season:
1. Rose Zhang, Fr., Stanford: Zhang is a superstar. She is already No. 255 in the Rolex Rankings, and earlier this year she was runner-up in a Symetra Tour event. She also is dominant against her peers, winning five of the past six AJGA invitationals she teed it up in. The expectations are sky high, but it's hard to see Zhang not contending in every event this season.