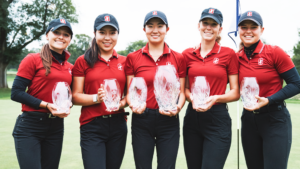 By: Stanford Athletics
10/5/21 – CHICAGO, Ill. – Two for two. Stanford women's golf won the Windy City Collegiate on Tuesday, its second straight tournament victory to begin the season. Freshman Rose Zhang won individual medalist honors, her second straight win to begin her collegiate career.
In a field that featured nine of Golfweek's Top 16-ranked teams, the No. 14 Cardinal won by eight strokes with a 14-over 878 at Westmoreland Country Club. The Cardinal bested No. 2 Oregon, No. 3 South Carolina, No. 4 Michigan, No. 6 Duke, No. 10 Virginia, No. 12 Florida, No. 13 Texas and No. 16 USC, amongst the rest of the 15-team field.
For the second straight tournament, Zhang did not hold a 36-hole lead, but a final round 2-under 70 catapulted her to the win on Tuesday in the Greater Chicago area. Three of Zhang's six rounds thus far have been under par, while five of the six have been at least even-par.
Joining Zhang in the Top 10 was senior Aline Krauter, who fired 74-72-74 to finish tied for seventh. It is Krauter's 10th career Top-10 finish and her 17th career Top 20.
Angelina Ye (T22) and Rachel Heck (T38) both made their season debuts for the Cardinal, while freshman Caroline Sturda finished tied for 42nd.
This is Stanford's seventh win in a multi-day, stroke play event in the calendar year 2021 and its eighth individual win – all by true freshmen. Rachel Heck won six times as a freshmen in the shortened, 2021 spring season, while Zhang has now won twice.
Windy City Collegiate (Westmoreland Country Club, par 72)