Amanda De Jesus Win's FCG National Event
Varsha Ramamchandran 2nd
Bowen Lan 3rd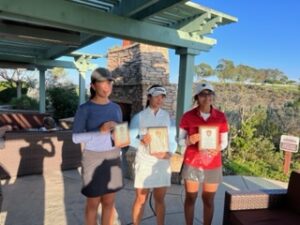 Congratulations to the FCG National Tour San Diego winner, Amanda De Jesus (center of photo) who fired a -4 69-71 140! Amanda has exploded the past month with her outstanding performances. Taking second place was Varsha Ramachandran (red shirt) with a 69 (low round of day) who shot -2 73-69 142! Bo Lan (blue shirt) continues her good play with a third place +1 74-71 145! Sunny Wang was seventh at +5 75-74 149. Super proud to coach these 4 wonderful young players who took 4 places out of the top seven as they move toward their future college career's. As Varsha's mother Vinoo, messaged me today, "It's a George Pinnell show in San Diego FCG Tournament today!!!!! I'm proud to be a small part of their major accomplishments and tip my cap to their parents for their outstanding support.