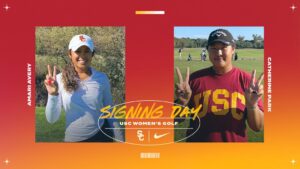 Women's Golf | November 10, 2021
Junior golf standouts Amari Avery, from Riverside, Calif., and Catherine Park, from Irvine, Calif., have signed letters of intent with USC, Trojan Coach Justin Silverstein announced Wednesday (Nov. 10).
Avery will join the Trojan team as a freshman in the 2022 spring semester while Park will come aboard for the 2022 fall semester.
"Our program could not be more excited about the additions we made to our roster today," Silverstein said. "For a long time, Amari and Catherine were our top two 2022 prospects and we feel like we threw a perfect game by getting commitments from both of them. As a duo, we feel like they embody exactly what our athletic department is looking for in our student-athletes."
Avery has already played on some of the game's biggest stages, including the 2021 Augusta National Women's Amateur and at the 2021 Women's U.S. Open. Her resume also includes medalist honors at the 2019 California Women's Amateur, a 3-0 record playing for the 2021 U.S. Junior Solheim Cup team and playing in the 2021 LPGA Founder's Cup.
Avery was co-medalist at the Brentwood C.C. to make the U.S. Open and captured The John Shippen Shootout to earn her berth in the Founder's Cup. She tied for ninth at both the 2021 Girls' Junior PGA Championship and the 2021 U.S. Girls' Junior Championship.
"(Assistant Coach) Katie (Mitchell) and I know the immediate impact that Amari will make on our program and we expect her to come in and compete for tournament victories early in the spring season," Silverstein said. "Amari has an incredible junior golf record and we believe she was a perfect candidate to graduate high school early to help us win another NCAA Championship.
Avery, who is the second-ranked senior in the Golfweek rankings and No. 2 overall, is a four-time Rolex All-American and won a 2020 Cactus Tour event as an amateur and also played in the 2021 Symetra Tour's Garden City Charity Classic. She reached the round of 32 in the 2020 U.S. Women's Amateur, was a semifinalist in the 2019 U.S. Women's Amateur Four-Ball and reached the Round of 16 of the 2018 U.S. Girls' Junior.
"I'm excited to start a new chapter of my golf career at USC," Avery said. "Joining the Trojan family alongside some of my closest friends is something I can't wait to be a part of. Soon I'll be playing for some of the best coaches in the country and with the best teammates which makes me so proud to Fight On!"
One of eight junior golfers featured in the 2013 Netflix documentary, "The Short Game," she won her first four Toyota Tour Cup events in 2017 and was second alternate at her 2017 U.S. Open qualifying site. Avery was also the 2019 SCGA Player of the Year.
Park, a senior at Crean Lutheran who is the eighth-ranked senior in the Golfweek rankings and No. 16 overall, is a two-time Rolex All-American. She won the 2019 Se Ri Park Junior Championship and has five 2021 top 10 finishes in AJGA events, including a tie for third at the Dustin Johnson World Junior and a tie for fifth at the PING Heather Farr Classic.
"I am so excited to officially be part of the Trojan Family," Park said. "I can't wait for next year!"
Park reached match play at both the 2021 Women's North & South Amateur and the 2020 U.S. Women's Amateur. She was third at the 2019 Swinging Skirts AJGA Invitational and eighth at the 2019 Rolex Tournament of Champions
Park's mother, Seo Hyang-soon, became Korea's first Olympic gold medalist when she won gold medal in archery at the 1984 Olympics at the age of 17. Park's father, Park Kyung-ho, is a 1986 Asian Games gold medalist in judo.
"Catherine is one of the most physically gifted junior golfers I have ever seen," Silverstein said. "She has incredible hand-eye coordination and possesses incredible power. Her ball striking prowess reminds me of former Trojan great men's teamer, Rico Hoey, and I think her game will really take off when she gets in our player development system.
"One of the things that made Catherine so attractive to us was that she was raised by two incredible athletes."