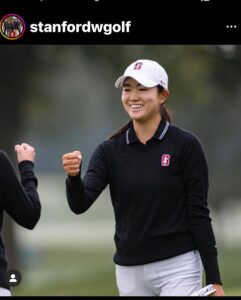 By Hailey Hernandez/26 Mar 2022
For the first time in the three-year history of the Augusta National Women's Amateur – held March 30-April 2 – all 72 players are in the top 200 of the women's World Amateur Golf Ranking (WAGR). While the Championship is an individual 54-hole event, 53 players are also representing 34 colleges and universities in the United States as current or future team members.
From a team perspective, no university will send more players than Stanford. The Cardinal will send six women to compete, including top-ranked amateur Rose Zhang, Rachel Heck, Aline Krauter, Caroline Sturdza, Lei Ye and commit Megha Ganne.
Competing with my teammates at the Augusta National Women's Amateur is going to be the experience of a lifetime.
– Caroline Sturdza
The No. 1 team in the nation already has five event wins this season, with either Zhang or Heck also taking home individual titles in four of them. Stanford's team of Zhang, Heck, Krauter, and Sturdza also set a new NCAA record for 54 holes, finishing at 50-under at the Gunrock Invitational. They also put together a 35-stroke victory to earn the largest margin of victory in Stanford program history.
"Competing with my teammates at the Augusta National Women's Amateur is going to be the experience of a lifetime," said Sturdza, who has two individual top-five finishes in her first season at Stanford. "We're playing great golf right now and to have six of us head into this week together will definitely make it comfortable and more fun."
The Cardinals contingent enters the 2022 event tying the University of Southern California's record six Trojans that competed in the 2021 Championship.
Not to be overlooked, Wake Forest is bringing four players from its roster – including reigning runner-up Emilia Migliaccio, Carolina Lopez-Chacarra, Rachel Kuehn and Lauren Walsh. All four are in the top 30 in WAGR and three of them have competed in previous Augusta National Women's Amateurs.
"I feel honored and excited not only to play in a place with this history, but to represent Wake Forest along with three other teammates," Lopez-Chacarra said. "It means a lot to be invited and it is motivation to keep working hard and pursuing my dreams."
Wake Forest has had success in each of the first two editions of the Championship. Alumna Jennifer Kupcho was the first champion of the Augusta National Women's Amateur in 2019. At the time of her victory, Kupcho was the world's top-ranked amateur and reigning NCAA individual champion. She played her final six holes in five under par, including an eagle on the par-5 13th to prevail against Mexico's Maria Fassi.
It was unbelievably special to play last year and see girls walking the fairways of Augusta National.
– Rachel Kuehn
Kupcho also holds or shares many scoring records for the Championship including: shared Low 18 at Champions Retreat (68), Low 18 at Augusta National (67) and Low 54 Hole Total (206). Since her victory, Kupcho has added 11 career top-10 LPGA Tour finishes and one Solheim Cup appearance to her professional resume and continues to be an inspiration for the Wake Forest team and next stars of the game.
"It's been amazing and inspiring watching Jennifer and Emilia's play at this tournament the past couple years," said Kuehn, returning for her second Championship. "It was unbelievably special to play last year and see girls walking the fairways of Augusta National."
The Pac-12 conference continues to be well-represented with 17 players from seven schools. Behind Stanford's six, Arizona State and Southern California will each send three players. Arizona State has three players in the top 75, with commit Paula Schulz-Hanssen returning for her second event, joining Ashley Menne and Alexandra Forsterling.
Amari Avery, Katherine Muzi and commit Bailey Shoemaker will each represent Southern California with Muzi and Shoemaker making their debuts. Avery, a freshman, recently won Pac-12 Player of the Month after two victories in February. She missed the cut in her debut last year, but is looking to make up for it in 2022.
"I'm much stronger mentally and I've been able to see many benefits from that so far," Avery said. "Making the playoff for the cut to get to Augusta National was so important for me. I have a leg up this year on those who haven't been here before. It means so much to be invited and returning for a second year is an accomplishment I am very proud of."
Behind Stanford (six), Wake Forest (four), Arizona State (three) and Southern California (three), seven schools will send two representatives apiece: Auburn, Clemson, Duke, LSU, Michigan, Oregon and Virginia.