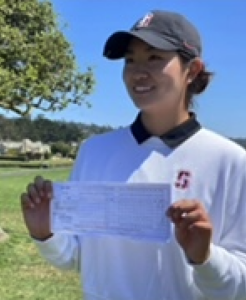 04 Sep 2022 – by Jim Young of AmateurGolf.com Boasting a roster consisting of the last two ANNIKA Award winners and NCAA individual champions, two of the top five female amateurs in the world, a freshman who played in the final group of the 2021 U.S. Women's Open and glue players who could play at the top of just about any lineup in the country, Stanford's talent-ladened roster is an embarrassment of riches.
Showing no signs of a summer malaise, the Cardinal successfully opened its national title defense this weekend by capturing both the team and individual titles at the Carmel Cup at the Pebble Beach Golf Links. The Cardinal finished 12-under in the play-six, count-five format, besting second-place Texas A&M by 13 strokes and third-place Oklahoma State by 28 shots.
Sophomore Rose Zhang, last year's ANNIKA Award winner as the top female collegiate player, won the individual title with a 13-under score of 203, which was good for a five-stroke victory over her teammate Megha Ganne, who finished at 9-under 208 in her collegiate debut.
After setting the Pebble Beach women's course record with a 9-under 63 on Saturday, the top-ranked female amateur in the world shot an even-par final round of 72 to record her fifth career victory in her 11th collegiate tournament. Her five wins already rank fifth on Stanford's all-time career list.
Junior Sadie Englemann joined Zhang and Ganne in the top-five, tying for fourth with a 2-under 214.
Texas A&M, national semifinalists a year ago, finished second at 1-over 1081, 15 shots clear of third place Oklahoma State (+16). Rounding out the top five were Mississippi State (+24) and Arkansas (+28).
Jennie Park (66-70-73—209) paced the Aggies, finishing at 7-under 209 to place third behind Zhang and Ganne.