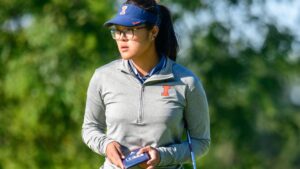 Women's Golf, September 11, 2022, Jackson Janes
Crystal Wang knew she wanted to experience something different during her college recruitment process. After growing up in California, Wang left the West Coast for the Midwest, choosing to continue her athletic and academic careers at Illinois.
Though the adjustments to a new environment far from her family and unfamiliar weather were initially difficult, Wang quickly adapted, and she credits her close-knit women's golf team for making the transition much more manageable.
"Before coming here, the only thing I was really worried about was my family not being here and also the weather," Wang said. "I didn't really know how to handle the cold, but once I got here, the team is really close with each other, so it kind of makes me feel not homesick. The weather, I got adjusted pretty quickly, but I think those are the two main things I was worried about."
Wang burst onto the scene as a freshman in 2018, registering three top-five finishes during the fall campaign. In the spring, she continued this same success, and her 72.95 stroke average is now the eighth-lowest single-season mark in program history.
After tying for eighth place and securing a joint-second-place team finish at the Big Ten Championships in her first spring season, Wang was earned First-Team All-Big Ten honors and led the program to its first-ever NCAA Championships appearance in 2019. The team finished tied for ninth in its tournament debut, a feat she is especially proud of.
"I think what I'm most proud of is my freshman year when we made it to nationals," Wang said. "I think that was just a big moment when I was a freshman to make it."
Wang says she was not expecting such immediate collegiate success, as she was mainly looking to simply help the team in any way possible. She was "pretty nervous" heading into her first tournament at Illinois, but she quickly realized the college events were similar to those she competed in at the junior level, aside from the increased levels of talent and competition.
With her first season in the books and her level of success rather high, Wang headed into the 2019-2020 with a new personal standard.
"I just have that first season as my standard," Wang said. "After that, I just hope to build on top of that."
Her sophomore year was cut short due to the COVID-19 pandemic, but she returned to her freshman-year form in 2020-2021, earning All-Big Ten Second-Team honors after securing two top-10 individual finishes and ranking second on the team in scoring average.
As a senior last year, Wang put together one of the greatest seasons in program history, securing All-Big Ten First-Team and Big Ten Championship All-Championship honors. She recorded eight top-15 finishes, led the Illini in rounds under par (13), was the team's top finisher in seven tournaments, and earned two Big Ten Golfer of the Week accolades.
Wang also was named to the CoSIDA Academic All-District list, the first Illinois women's golfer to achieve the feat, and tied for sixth place at the Big Ten Championships.
Her performance at the ICON Invitational in February will forever be remembered in Illini history books, as she carded the lowest 54-hole tournament score (-13) and the lowest single-round score (-8) in program history.
Following a successful senior season, Wang decided to take advantage of the extra year of eligibility offered to all NCAA student-athletes, and she will be back leading the Illini for a fifth campaign.
In what is almost certainly her final collegiate season, Wang wants to continue to play at the highest level possible, but she also wants to savor the moment and opportunity.
"My goal this year is just to have fun. It's pretty simple," Wang said. "To do that, I think just really putting in the work and then kind of working towards that with my teammates. We hold each other accountable, motivate each other. I just want to put in more than the minimum required."
Wang is now the oldest member on the Illinois roster, and she looks forward to serving as a mentor, role model, and teammate to her younger peers.
"I'm the oldest, so I feel like I have to set a standard," Wang said. "The freshmen look at what I do, and then they will follow and do the same, so I just really like watching and being aware of how my actions have consequences.
"Every year has been different. I love my teammates every year, and we're all really close to each other."