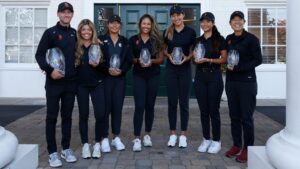 Women's Golf | October 04, 2022
Former students of George Pinnell, PGA, including Catherine Park pictured with Coach Justin Silverstein and Coach Tiffany Jo.
Amari Avery's first-place finish led five Trojans who finished in the top 24, including fellow sophomore and seventh-place Xin (Cindy) Kou, as the USC women's golf team won its first event of the 2022-23 season on Tuesday (Oct. 4) at the Windy City Collegiate Classic at the Exmoor C.C. in Highlands Park, Ill.
The Trojans shook off a disappointing season-opener by winning for the third time at the Chicago-area event, taking the trophy at 3-over 867 (290-290-287).
No. 6 South Carolina, which teed off about an hour after USC, rallied late and closed to within five strokes before finishing before taking second at 12-over 876.
USC previously won the event in the fall of 2014 and 2018. All-Americans Annie Park (2014) and Gabriela Ruffels (2018) were medalists in both team wins.
The win is USC fifth-year head coach Justin Silverstein's 18th and the first with first-year assistant coach Tiffany Joh.
"This was a really, really satisfying win coming off the last couple weeks of practice," Silverstein said. "We had to have some very difficult and honest conversations after the New Mexico event and I couldn't be happier with how this group responded. They worked very hard and very smart the past three weeks and they deserve this victory."
Avery wasn't quite as sharp as she was in her 8-under, 36-hole effort Monday, but strong enough to take first at 6-under 210 (67-69-74). South Carolina's Hanna Darling made it close with birdies on three of her final six holes, but finished one back.
With her win, Avery ties Denise Strebig (part of USC's first teams over four decades ago) for fifth on the USC's career victory chart with four, two off the school record held by Park. Avery won three times as a spring-semester freshman.
"Amari's game was absolutely incredible this week," Silverstein said. "She drove the golf ball beautifully and her iron game was very much in control. I'm happy to see her hard work paying off and I think this victory will be the first of a bunch this season."
Kou meanwhile turned in her sixth top 10 of her young career and second top 17 this season by tying for seventh at 3-over 219 (72-75-72). She was 3-over thru 12 holes but closed at 3-under for a final par round.
Freshman Catherine Park was 2-under today to move up into a tie for 12th at 5-over 221 (74-77-70). She had five birdies today, including three in a row between 18 and 2 for her low effort as a Trojan.
Junior Brianna Navarrosa tied for 19th at 6-over 222 (77-74-71) thanks to a final 1-under round that saw two birdies against one bogey. It's her 12th career top 20 result.
Junior Christine Wang posted a career-best tie for 24th at 8-over 224 (72-78-74). Her first round equaled her USC career best.
USC returns to action Oct. 10-12 at the Stephens Cup in Juno Beach, Fla.