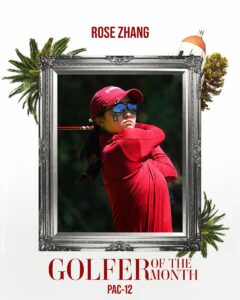 Womens Golf | October 5th 2022
Cruised to a dominant five-stroke victory at the Carmel Cup on Sept. 4.
Set the Pebble Beach women's course record with a 9-under 63 during the second round.
Won her fifth career event (in 11 starts) to tie for the fifth most in school history and helped the Cardinal to a 13-stroke win in impressive field.
Led the way with a three-round, 13-under 203 (68-63-72), the fifth-best 54-hole score in program history and her third best at Stanford.
Second career Pac-12 Golfer of the Month honor (October 2021).