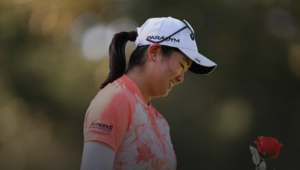 April 1, 2023 8:20 pm ET
AUGUSTA, Georgia ­– People told Rose Zhang that college golf would ruin her. She hated that.
"I wanted to push myself to the limit," she said on the eve of the final round of the 2023 Augusta National Women's Amateur.
Those limits were laid out for the world to see on Saturday at the Augusta National Golf Club, where Zhang clawed her way to victory in a two-hole playoff over Georgia's own Jenny Bae, clinching the only big title that had eluded her in amateur golf. Zhang has dominated at every level, and her decision to spend the past two years at Stanford might change the way the next great American prodigy views college golf during a time of unprecedented exposure and NIL cash.
For the past 20 years, phenoms in the women's game have skipped the books and gone straight to the LPGA. Before Zhang set off to beat the world, however, she wanted to find herself, something that's incredibly hard to do when cocooned by family on a professional stage.
"The big reason to go to college," said Zhang's longtime instructor George Pinnell, "it's not for the education. It's to get away from the family and grow yourself – do all the little things that mom and dad have always done."
Stanford head coach Anne Walker told Zhang when recruiting her that there likely weren't any nuggets she was going to teach her to make her a better player. What she was already doing was clearly enough. Where Walker felt like Stanford could help Zhang was in her aspirations to be a professional, all the elements that come into play beyond the technical prowess.
For example, at the end of Zhang's first semester at Stanford, Walker told her players to put their clubs away during the offseason. Zhang returned to practice in January banged up and battling a horrific flu. Walker later learned that Zhang had been hitting 200 balls a day during what was supposed to be a down period.
"You have to learn that rest and recovery takes as much discipline as hitting 200 balls or 200 chips," Walker told her.
A disciplined Zhang took the lesson to heart.
In two years at Stanford, Zhang has a winning percentage of 56.25 through 16 career starts. Her nine victories are two shy of tying the all-time Cardinal record, held by Tiger Woods (26 starts), Patrick Rodgers (35 starts) and Maverick McNealy (45 starts). She has four starts left in what could be her final semester of college.
Zhang's peers are awed by mostly everything Zhang does, from her work ethic to her keen understanding of the golf swing to her ability to make everything look so effortless. Nary a bad word is ever spoken about the world No. 1. She's as beloved for her character as she is her vast potential.
There's a deep sense that greatness is brewing.
After building a five-stroke lead heading into the final round at Augusta National, Zhang got off to shaky start with an opening double bogey, calling her swing uncomfortable.
"Your game can humiliate you to the point that you can't get out of that hole," said Nancy Lopez as she stood behind the 18th green on Saturday.
Nearly everyone seems to think that an extended weather break midway through the final round would do Zhang a world of good as her lead dwindled.
Pinnell started working with Zhang eight years ago, and for a long time, never could figure out why she never texted him during a tournament. Every other student would check in from time to time with questions. Does she have another coach, he wondered.
No, Rose wouldn't do that.
Then one year at the AJGA Ping Invitational in Stillwater, Oklahoma, Zhang texted after a second-round 75 and said, "It was brutal out there today," noting the bad weather and a swing flaw. Pinnell didn't asked about the flaw, and Zhang didn't offer. The next day she shot 67 and won the tournament.
The following week during their lesson, Zhang sat down on a bucket as Pinnell inquired about the turnaround in Stillwater.
Zhang explained that she went to the range after that 75 and pulled out her 9-iron. She didn't hit any balls, just started making slow-motion swings, scanning through all the fundamentals they'd talked about in her mind. In less than 10 minutes she'd figured it out – without hitting a golf ball – and headed off to dinner with friends.
"I damn near fell off the chair," said Pinnell. "That was the answer to why she never contacted me."
A similar scenario played out mid-round at Augusta National, as Zhang once again found herself scrolling through her mind what everything felt like out there – from setup to ball position to grip.
The grip!
The "aha" moment flashed through her mind as she was approached her third shot into the par-5 13th. Zhang adjusted her right hand and hit one of the best wedge shots of the week.
"I think that everyone should realize that I'm very much human, and that I do have my fair share of dumb mistakes out on the golf course," she said.
"But I'm just really proud of myself in terms of how I was able to overcome so much media, so much expectations."
Where Zhang's amateur career thus far ranks all-time is debatable. She's the only player to win the U.S. Women's Amateur, U.S. Girls' Junior, NCAA Championship and Augusta National Women's Amateur. She's on another level than her peers in the collegiate game.
JoAnne Carner, winner of five U.S. Women's Amateurs and a Girls' Junior turned pro at age 30, giving her an enormous window of opportunity. Juli Inkster, a three-time U.S. Women's Amateur champion who won 17 times in college, didn't take the game seriously until age 15, while Lydia Ko, a U.S. Women's Amateur champion, won twice on the LPGA as an amateur and topped the World Amateur Golf Ranking for 130 consecutive weeks.
Zhang's humble and gracious approach to life reminds many of Lorena Ochoa, who dominated college golf for two seasons but never won the big amateur titles like Zhang.
"I've never been around anybody like her," said Pinnell.
The golf world can hardly wait for what comes next.