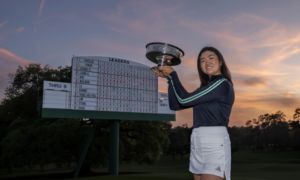 Cameron Jourdan | April 19, 2023 9:31 am ET
What can't Rose Zhang do?
She has won just nearly every prestigious tournament an amateur can. The Augusta National Women's Amateur, which she captured earlier this month. The U.S. Girls' Junior. The U.S. Women's Amateur. The NCAA individual title.
And Wednesday, she gets to tack yet another accomplishment to her resume: most weeks as the No. 1 golfer in the World Amateur Golf Ranking.
Zhang has spent 136 weeks as the world's leading female amateur golfer, surpassing the total of 135 weeks that Leona Maguire set in 2018. The record for male amateur golfers is 87 weeks, held by Keita Nakajima of Japan.
The sophomore at Stanford ascended to the No. 1 position in WAGR in September 2020. She also bested Lydia Ko's record of 130 consecutive weeks by remaining at the top ever since.
"It's an unbelievable honor and a testament to a lot of hard work not just by me but by my team as well," Zhang said in a release. "Passing names like Lydia and Leona on any list is incredible; they've both gone on to have such impressive professional careers and are great role models in golf. I'm grateful for all the support I've received and look forward to continuing to pursue my dreams in this game."
Zhang is a three-time winner of the Mark H. McCormack Medal, coming in 2020, 2021 and 2022, as the world's leading women's amateur golfer. Only  Maguire and Ko have won the award three times previously.
"I want to congratulate Rose on this amazing achievement," Maguire said in a release. "It takes so much hard work and determination to become the world's number one amateur golfer and to consistently hold that position for a record-breaking number of weeks shows just how good a golfer Rose really is. She is a future star of the game."
On Tuesday at the Pac-12 Championships at Papago Golf Course in Phoenix, she broke the 36-hole scoring record. Entering the final round, she is at 9 under with a four-shot lead. If Zhang were to hold on to win, it would be her 10th victory, setting a new Stanford record for wins by a women's golfer in a career. Zhang is currently tied with Andrea Lee at nine.