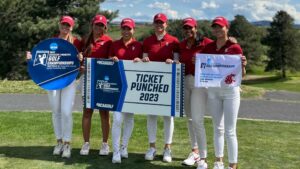 05/10/2023 | Women's Golf
By: Stanford Athletics
PULLMAN, Wash. – Tiger Woods. Patrick Rodgers. Maverick McNealy. Rose Zhang. That's the list of Stanford golfers who have won 11 times in their illustrious careers on The Farm. In her 19th career event, Zhang won for the 11th time – and school-record seventh time this season – on Wednesday at the NCAA Pullman Regional.
Zhang set a new program 54-hole scoring record at 19-under 197 to lead No. 1 Stanford women's golf to the Pullman Regional championship, as the Cardinal tied its school record at 50-under 814.
The 19-under for Zhang was an NCAA postseason 54-hole record by three strokes and the 50-under mark by Stanford was 17 shots better than any other program has ever shot at NCAA Regionals (Clemson, 2023; Alabama, 2018).
"There are no words left to describe what Rose Zhang has accomplished in college golf and specifically here at Stanford," Margot and Mitch Milias Director of Women's Golf Anne Walker said. "It's mesmerizing to watch and learn from her. She has elevated our entire team and you can see that this week with the huge performances from her teammates."
All-Time Wins At Stanford
11 – Rose Zhang (19 events)
11 – Tiger Woods (26 events)
11 – Patrick Rodgers (35 events)
11 – Maverick McNealy (45 events)
9 – Andrea Lee (32 events)
The Cardinal advances to its 13th-straight NCAA Championships, and 31st in program history, set to be played at Grayhawk Golf Club, May 19-24, in Scottsdale, Ariz. Stanford is the defending national champions. The Pullman Regional title marked the program's sixth NCAA Regional championship (2007, 2016, 2017, 2018, 2021, 2023) in its history. Advancing alongside Stanford was Clemson, USC, Baylor and Texas Tech.
"We never take this week for granted, but to be able to advance to nationals in the fashion that we did is something quite spectacular," Walker said. "It was fun to watch our freshmen stick to the plan we had for the golf course and see that pay off in birdies all around. Kelly (Xu) was a huge contributor and really made it possible for us to match our program record of -50!
"We can't wait to get back to Arizona and play Grayhawk again!"
Zhang becomes Stanford's third NCAA Regional medalist in program history, joining Rachel Heck (2021) and Albane Valenzuela (2017).
The record-setting sophomore owns a 68.70 scoring average through 27 rounds this season, nearly one stroke better than her NCAA Record 69.68 scoring average from her freshman season. Her career scoring average currently sits at 69.22 through 58 rounds. Lorena Ochoa currently owns the NCAA record with a 70.85 career scoring average in 60 rounds.
Junior Sadie Englemann finished second to Zhang with a 15-under 201. For Englemann, it was her best career 54-hole score by five strokes. She finished the Pullman Regional with a clean scorecard – 15 birdies and 41 pars – the only player in the 72-person field without a bogey.
"Sadie is one of the most dedicated players on our team," Walker said. "She practices with devotion each and every day. This week was a culmination of many hours of practice and preparation. She was flawless for 54 holes and it resulted in a very rare, bogey-free tournament. Her leadership this year in unmatched; she's the ultimate teammate and ambassador for Stanford Golf."
Behind Englemann, a pair of freshmen finished third and fourth on the team. Kelly Xu tied for eighth at 10-under, her low tournament of the year by 10 shots, and Megha Ganne tied for 13th at 6-under.
Stanford now turns its attention to Grayhawk Golf Club and the NCAA Championships, which begin Friday, May 19. The top 30 teams will compete in stroke play for three rounds with a cut to 15 teams after Sunday's round. The individual national champion will be crowned on Monday, May 22 live on GOLF Channel, and the top eight teams will advance to Tuesday's quarterfinal matches. The national championship match is set for Wednesday, May 24.
---
NCAA Pullman Regional (Palouse Ridge Golf Club, par 72)
| Name | Round 1 | Round 2 | Round 3 | Total |
| --- | --- | --- | --- | --- |
| 1. Stanford | 267 (-21) | 274 (-14) | 275 (-15) | 814 (-50) |
| 1. Rose Zhang | 64 (-8) | 68 (-4) | 65 (-7) | 197 (-19) |
| 2. Sadie Englemann | 64 (-8) | 70 (-2) | 67 (-5) | 201 (-15) |
| T8. Kelly Xu | 68 (-4) | 69 (-3) | 69 (-3) | 206 (-10) |
| T13. Megha Ganne | 71 (-1) | 67 (-5) | 72 (E) | 210 (-6) |
| T49. Angelina Ye | 72 (E) | 77 (+5) | 72 (E) | 221 (+5) |