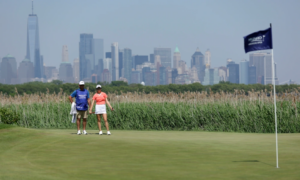 Riley Hamel June 1, 2023 2:06 pm ET
One of the greatest amateur golfers of all time is officially a professional.
Rose Zhang is playing in the 2023 Mizuho Americas Open on the LPGA at Liberty National Golf Club in Jersey City, New Jersey, after announcing her decision to turn pro on May 26.
Zhang's extensive resume includes the most wins in Stanford history (12) — yes, more than Tiger Woods — the 2022 and 2023 NCAA Women's Championship titles and a win at the 2023 Augusta National Women's Amateur. She turned pro ten days after winning the NCAA individual title.
Here are some photos from Zhang's professional debut at Liberty National, hosting the LPGA for first time.