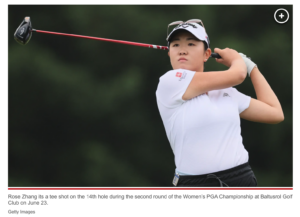 By Mark Cannizzaro – June 24, 2023 – 3:04am
Even when she's not winning golf tournaments and playing like the most dominant player in her sport — which is essentially all Rose Zhang has known at every level she has played — the 20-year-old phenom has all the right moves and goes about her business with the perfect attitude.
Zhang's uncanny maturity and ability to remain unaffected by the tidal wave of hype that has crashed at her feet is as much her super power as the golf clubs in her hands.
All of those things contributed to her winning the 2020 U.S. Women's Amateur and both the 2022 and 2023 NCAA Division I Championships … to name only a few on the long list of her remarkable accomplishments.
And they'll continue to contribute to success in her professional career. She already won the Mizuho Americas Open at Liberty National earlier this month to become the first player to win in her pro debut on the LPGA Tour since 1951.
Zhang, a Southern California native, turned pro just two weeks before the Mizuho. Ridiculous. Rev up the hype machine.
Michelle Wie, who like Zhang went to Stanford (graduating in 2012), was nearly swallowed up by that hype machine early in her career. Wie, as a teenager, was quickly thrust into the role as the next face of women's golf, and it was a difficult title to live up to. She had a terrific career, but never lived up to what the rest of the world expected from her.
Zhang is that young woman now, but she seems to be incredibly fit to handle it. We will see. It's early.
She is playing in her first major championship as a professional this week at Baltusrol's venerable Lower Course in the KPMG Women's PGA Championship. Zhang didn't have a great day Friday in the second round, shooting a 3-over 74 to stand at 2-over for the tournament, seven shots behind 36-hole leader Leona Maguire, the winner of the Meijer LPGA Classic last week.
And you know what?
That was OK.
After she scuffled for much of the final nine holes Friday with three bogeys and a damaging double bogey on No. 8, her second-to-last hole, you'd have no idea she was shaken by it.
Because she wasn't.
"Today overall felt a little more solid than yesterday, but coming in it was definitely a little rough,'' Zhang said afterward. "I was putting myself in positions that were not ideal, and when you're out here, especially at a major championship venue, it is difficult to get up-and-down. I really had to keep calm and stay composed throughout.''
She did.
After making a mess of No. 8, one of the easiest holes on the course, hitting two shots into bunkers (one fairway and one greenside) and failing to get up and down for bogey, guess what Zhang did on No. 9, her final hole?
She birdied it.
Don't count Zhang out over the weekend. She certainly hasn't.
"This entire golf course is all about strategy,'' Zhang said. "I do want to make a couple of adjustments just because I feel like the game plans that I've been having the past two days have been a little iffy. I'm excited to just stay composed, stay in the moment and hit it shot by shot when I'm out here.''
The beauty of how Zhang conducts herself is the way she tempers her own expectations, certainly in public. That will serve her well, because after what she accomplished as an amateur and her victory at Liberty National, the rest of the world's expectations for her will be over the top.
They already are.
"There's a lot of hype around her,'' Mel Reid said Friday after shooting 67 to get to 4-under. "I understand why you guys [media] do that, but I think for her to find her feet a little bit, it's easy to say that she's going to be a superstar, but this tour can grind you down sometimes. I think she's going to do just fine. Just try and keep the expectations low for her and kind of let her feel her way into the Tour.''
What do you think? Post a comment.
Reid called Zhang's win at Liberty National a "best-case scenario'' for women's golf, adding, "I think every player felt that.''
"What she did at Liberty was obviously extremely impressive,'' Reid said. "She's a very impressive young lady. She's great for the Tour.''