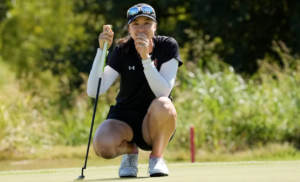 Katherine Muzi turned pro last June and shot 69 in a Monday qualifier one week ago to earn a spot in her first LPGA event. What followed was a shock to mostly everyone, including Muzi, who called making the cut at the Ascendant LPGA a "holy cow" moment.
Muzi, however, didn't just make the cut. She shot 73-69-69-68 to finish in a share of seventh and earn $45,658.
"For me, it was just like an eye-opener," said Muzi, "like, I can play at this level. Like it was just kind of crazy."
After graduating from USC with a degree in business administration, Muzi traveled east to another USC – South Carolina – where she worked on a graduate degree and finished up her final year of eligibility. Over the summer, she played in the first stage of LPGA Q-School but missed the cut.
2023 Ascendant LPGA benefiting Volunteers of America
Katherine Muzi reacts to her birdie on the ninth green during the final round of the 2023 Ascendant LPGA benefiting Volunteers of America at Old American Golf Club in The Colony, Texas. (Photo: Sam Hodde/Getty Images)
Earlier this year, Muzi became one of the first players to benefit from the new Annika Development Program at Old Barnwell in Aiken, South Carolina. To be eligible, players must be a recent graduate of a four-year college program in South Carolina, North Carolina or Georgia or a resident of one of those states who recently graduated from a four-year college program.
Muzi was joined by Krista Junkkari, Lauren Walsh and Lois Kaye Ko as first-year recipients of the program.
Benefits Muzi and others received from Annika Sorenstam's foundation include access to Old Barnwell's golf amenities for three years, a $10,000 stipend to help cover tournament fees and travel as well as free housing for the first year in Aiken.
"It's just been a huge deal," said Muzi of the Annika program's impact. "Just by me going to South Carolina, it really opened the door."
Last year the LPGA changed its regulations to allow a non-member who finishes in the top 10 in designated events to tee it up the next week. Unfortunately for Muzi, her top-10 in Texas won't get her into this week's event in China because it's a limited-field event. Nor will it get her into the next domestic stop on the schedule – The Annika driven by Gainbridge at Pelican – because that Florida field is filled using the CME points list.
Muzi has signed up for the Monday-qualifier at Pelican next month, but there's also a possibility that she will receive a sponsor exemption.
"The whole thing has been surreal," said Muzi, who felt a little out of place at the Old America Golf Club with her carry bag. "Especially this being my first ever LPGA event. Like ever. And then I just a happen to be a pro just playing in it. It's crazy."